English Text to Speech and AI Voice Generator
Resemble AI empowers you to clone your voice in English with advanced speech synthesis via text to speech and speech to speech. 
Clone your

English

 voice with the most advanced AI Voice Cloning Model.
Discover how diverse industries leverage our English TTS to enhance user experience, drive engagement, and break new ground in immersive digital experiences.
English
English is the primary language of several countries, including the United Kingdom, the United States, Canada, Australia, and New Zealand and spoken by over 1.5 billion people worldwide. English is a Germanic language, influenced heavily by Latin and French. 
Custom AI Voice Cloning
Building a voice for your brand? Do you need something that will speak to your international audience? Clone your English voice with less than 30 minutes of audio data. Simply get started by sending us your audio data and hear the magic for yourself.
English Dubbing
Dub your content into English AI voices with Resemble Localize. Our dubbing and multilingual voice localization tool enables you to reach global audiences that resonate with English speaking voices. 
The Possibilities are Limitless with TTS
Discover how diverse industries leverage our English TTS to enhance user experience, drive engagement, and break new ground in immersive digital experiences.
Voice Assistance
Customer support systems often employ English TTS to interact with customers, providing them with efficient service. It enables automated responses to common inquiries, streamlines the customer experience, and reduces wait times for human assistance.
Video Gaming
AI voice technology revolutionizes character development by providing a vast array of customizable voices. This enables developers to assign distinct, emotionally resonant voices to characters, enhancing the player's immersion. It streamlines production by enabling rapid prototyping. 
Entertainment
In storytelling, English TTS adds an interactive and engaging layer by giving digital characters and narratives a voice. This enhances the user's immersive experience without the need for extensive studio time and expensive recording equipment.
Generate Content with

English

TTS
Choose Your AI Voice
You have the option to clone your voice or choose from our marketplace of pre-built AI voices that are ready to generate content.
Text to Speech Generator
Type your text into our text to speech module labeled 'text' and then press the play button to generate your voiceover. If you would like to choose from multiple voiceover samples, click the 'thumbs up' button that displays upon hovering over the text module.
LLMs speak more than one language, and so does your AI Voice.
Localize your custom AI voice or localize our out-of-the-box marketplace voices in up to 100 other languages.
See how English voices integrate into your application
Integrate our TTS Engine in Dialogflow, Talkdesk, Unity, Python, Ruby, Javascript, GoLang, and Rust. Don't see your integration or language? Building with our REST API is easy.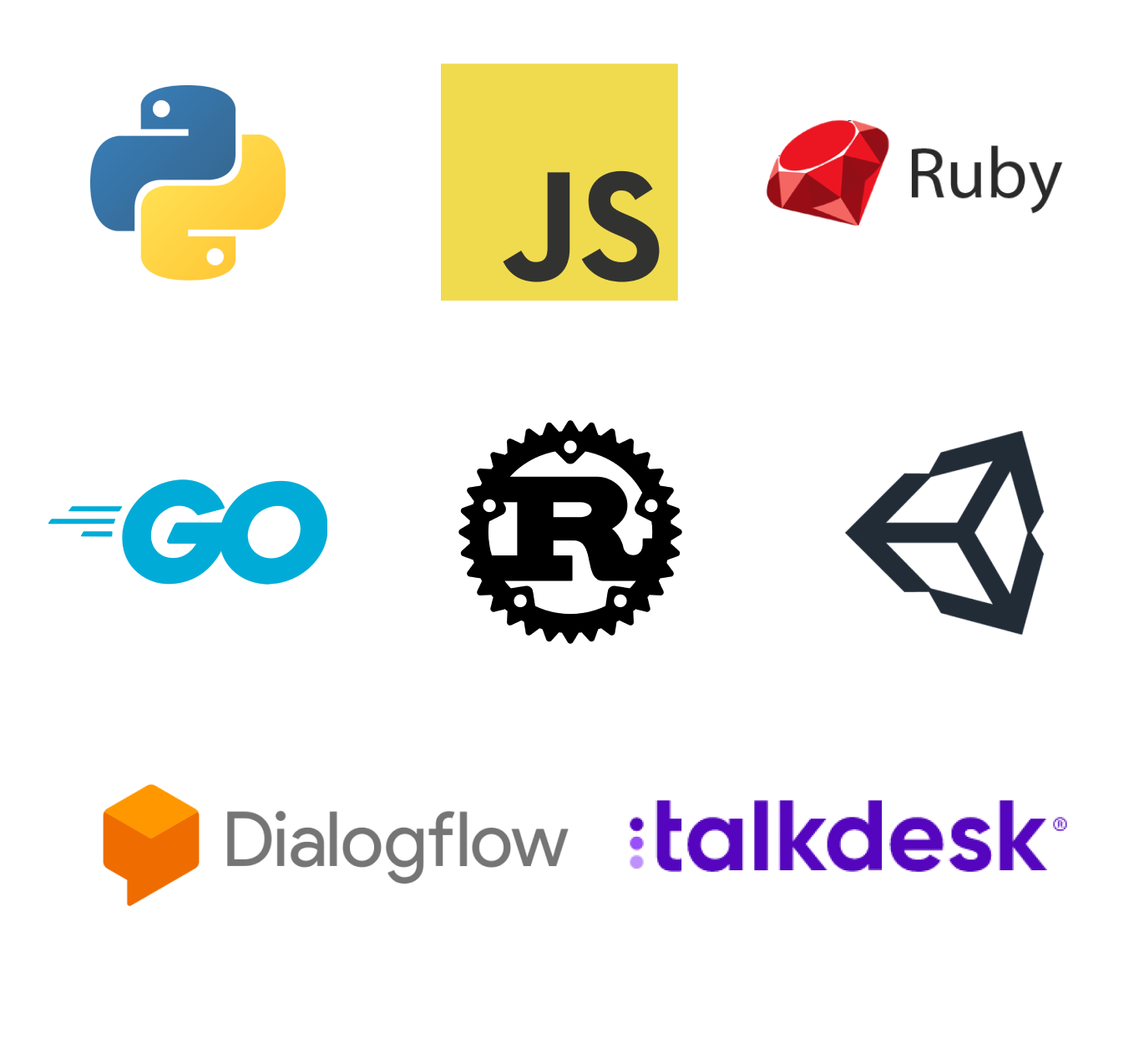 Frequently Asked Questions
How does English TTS work?
Write content in the specified language (like English) and let our neural TTS engine generate natural sounding speech within seconds.
How does Voice Cloning work with English?
Our users can provide data in any language and get fluent English voices built out of the box. Simply upload data to our web application or through the API and we'll create the voice model in minutes.
Can I translate voices to English?
Although Resemble doesn't handle the text translation portion, we can localize any Voice into 20+ languages. Simply type in the text in the target language, and magically hear your AI Voice localize the content.
Can English voices work with the API?
All of our AI Voices are compatible with our real time voice cloning API. Visit our docs to learn more.