Imagine a world where language is no longer a barrier but a bridge to understanding and collaboration. In today's interconnected world, where the internet, smartphones, and social media have bridged the gaps between cultures and languages, the demand for seamless communication across linguistic borders has never been greater. With the progress of generative voice AI, this is no longer a vision. It's now on the brink of becoming a technical reality, thanks to the remarkable advancements in generative voice AI. 
Expansion of Multilingual Voice AI Localization
Today, the team at Resemble AI is expanding Resemble Localize's footprint from 62 supported languages to 100 total languages. Until today, Localize has been enabling customers' AI voices to speak fluently in 62 different languages with text-to-speech. Today they will be able to localize their AI voices in up to 100 languages. This not only includes voices created with your own data, but you can localize our marketplace voices as well. 
If you'd prefer to try Localize right now, click the button below to begin generating localized content with our AI voice generator. 
Text-to-Speech with Low-Resource Languages 
AI voice localization is poised to revolutionize global communication by breaking down the language barriers that have made it difficult to this point to communicate with one another. From instructional videos to film, customers have been showing increased interest in our AI voice generator's ability to localize AI voice. This growing demand for AI voice localization has come with requests for less common languages such as Albanian, Malay, Tamil, Serbian, and more. To meet our customer's needs, we've trained additional models to expand their content creation capabilities. The Mandarin language and Hindi language referenced in the video above, accompany our more common Spanish AI voices, French AI voices and similar which are consistently being refined through the training process.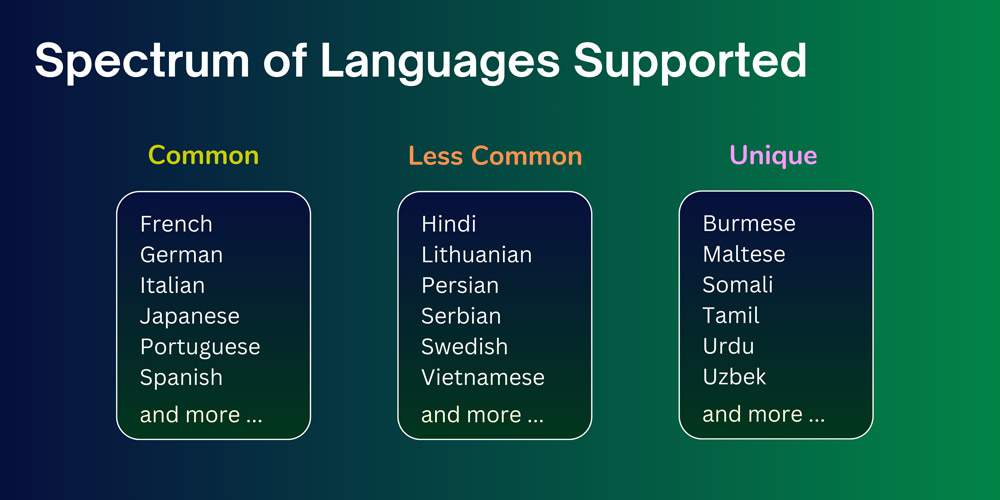 Multilingual AI Voices With Text-to-Speech
Now that our AI voice generator is supporting more languages, customers can elevate their projects by reaching niche audiences that resonate with their content. If your customers speak French, you can now personalize your call center queues to accommodate their preferences which builds trust and long-term relationships. Similarly, dubbing instructional video content into Arabic can drive customer satisfaction which will likely garner higher ratings on social websites. All of this is achievable through our text-to-speech (TTS) model. Customers are able to input their text and simply convert their content into 100 supported languages. Similar to the multilingual localized audio samples in the video above of Mandarin TTS and Hindi TTS generated content.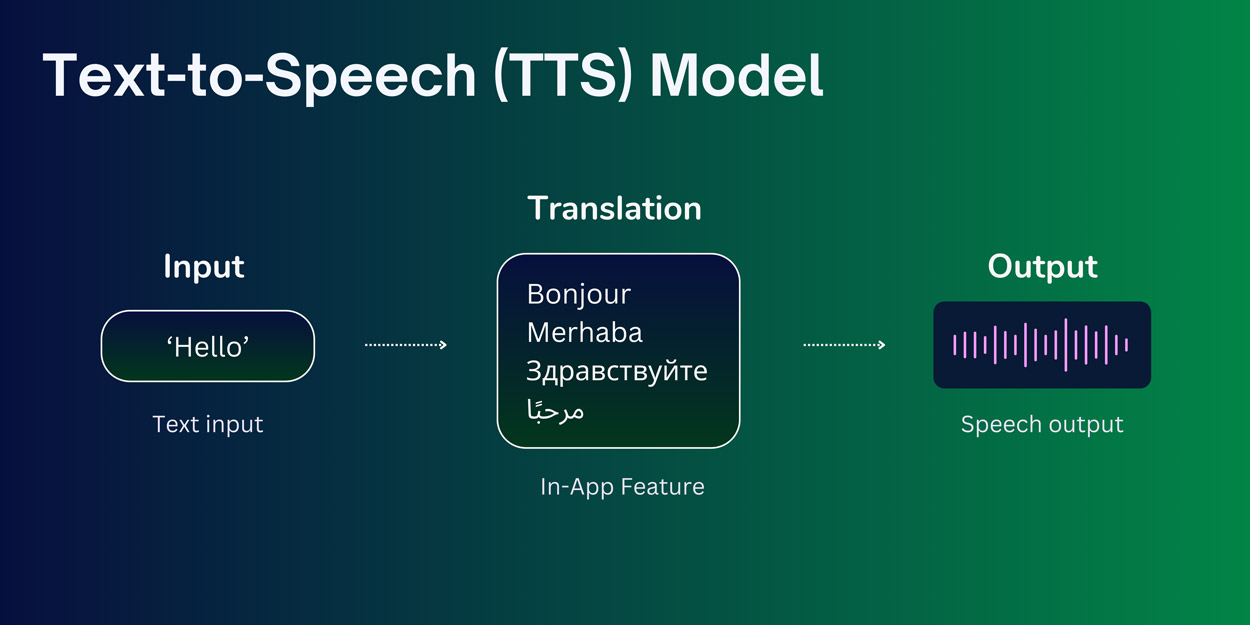 What Languages Are Supported? 
The expansion of Resemble Localize's multilingual support to 100 languages, includes a broad spectrum of languages. From the melodic tones of Swahili to the rich heritage of Nepali, and from the intricate scripts of Telugu to the poetic verses of Albanian, our enhanced repertoire of languages caters to a diverse audience. These languages transcend borders and industries, opening the doors to possibility. Whether you're a filmmaker looking to dub your masterpiece in Armenian, a global corporation aiming to connect with Indonesian customers, or an educational platform seeking to teach Korean, our extended language support empowers you to reach, engage, and resonate with audiences in ways that were once unimaginable. It's not just about expanding language support; it's about expanding your horizons and making your voice heard in more corners of the world.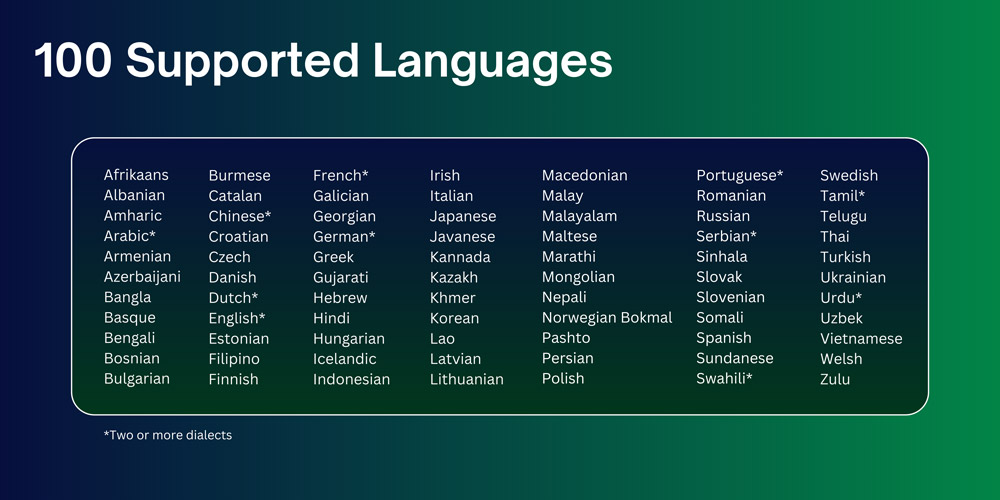 Adding More Value To The Content Creator's Toolkit
Finally, Resemble AI's expansion to 100 supported languages isn't solely a technical achievement. This is a testament to our commitment to seamless communication. We're fostering a world where language becomes a conduit to limitless possibilities for content creators. With customers in the driver seat we consistently navigate to develop tools that provide the most utility in their content creation process. We remain dedicated to pushing the boundaries, so if you do not see your language in the in-app experience, our team is happy to work with you to create a model that will capture the authenticity of your target language. Click the button below to connect with an expert today.