Best Voice Changer For Discord 2023
Liven Up The Engagement of Your Server With The Best Discord Voice Changers 
Voice changers have absolutely rocketed into popularity among the 150 million Discord users as an incredibly fun way to enhance their experience. Anywhere from Fortnite Discord to MrBeast Discord servers users are repping their personality. In this blog, we'll share everything you could possibly need to know about using voice changers on Discord. We'll explore what exactly voice changers are, why the Discord community embraces them so enthusiastically, how to set them up, and some of the top options to try out to start morphing your voice today.
What Is A Discord Voice Changer? 
A voice changer is a software tool that enables users to transform their voice by altering attributes like pitch, tone, cadence, inflection, accent, and many other qualities. It works by taking the user's original voice as input, running it through modifiers and effects processors, and then outputting the significantly transformed audio. Whether for entertainment or for identity privacy a user can allow people to make themselves sound like a different age, a fictional character, a robot, and anything else you can imagine. 
Voice changers provide endless creative options for altering your voice. Discord users can voicemod through third-party voice changing programs like Voicemeeter, Voicemod, Clownfish Voice Changer, Voxal Voice Changer, and more. There are also dedicated external hardware voice changer devices that can be used too. The software options tend to provide the most flexibility and are very straightforward to set up and available within Discord itself. They simply need to be downloaded on your computer and then configured as the input device in your Discord voice settings.

Why Use A Discord Voice Changer? 
There are several key reasons why creatively altering your voice with changers has become so astoundingly popular among the Discord community:
Anonymity
Obscuring your real voice with effects adds an extra layer of anonymity and privacy. This allows users to feel more comfortable being themselves without worrying about being judged. The pseudo-anonymity voice changers facilitate leads to more unfiltered, authentic conversations.
Singing
Transforming your voice to hit notes or to sing in the style of famous artists is highly engaging. The pitch shifting of voice changers unlocks more vocal range.
Roleplaying
Voice changing fits perfectly with the roleplaying servers, adopting alter egos, and playing as fictional characters that are commonplace on Discord. Users can match their transformed voice to the avatar and persona they are embodying for added immersion.
Self-Expression
Some users change their voice to find one that better represents their true identity and self-image. Having a massive array of diverse voice options makes it easy to find one that closely aligns with how you view yourself internally. This provides inclusivity and creative self-expression.
Gaming
Voice changers are hugely popular with gamers on Discord to sound like characters from the game they're playing for added roleplay factor or to disguise their voice from opponents to gain a strategic edge. It significantly augments the overall gameplay experience.
How To Change Your Voice Input For Discord Voice
Download your voice changer for Discord software of choice such as Voicemod, Voicemeeter, Clownfish Voice Changer, etc. Make sure to download the version compatible with your operating system (Windows, Mac, etc.)
Install and open up the voice changer program on your computer. Take some time to familiarize yourself with the various effects and options available to alter your voice. Configure the program settings so that the voice changer is set as your computer's default microphone input device.
Go into Discord then click the gear box for settings.
Click 'Voice & Video' then update 'Input Device' to voice changer.
Next open the Discord desktop app on your computer and follow the simple three steps above. Don't forget to save your settings and then join a Discord voice channel and test that the program is working by speaking and hearing your transformed voice. You can toggle different effects and settings until you find your desired voice. Consider setting up a hotkey to quickly toggle the voice changer on and off without leaving Discord. And that's it! Those are the basic steps to start using a voice changer to unlock a world of vocal creativity on Discord. 
Best Discord Voice Changer List For 2023
1. Resemble AI
Cutting-edge generative voice AI technology, specifically voice cloning and AI voice generator models enable Discord users to create the most unique and highest quality voice content possible. 
Pros
Clone and create your own fully customizable voice.

Or choose up to 40 ready-to-use marketplace voices.

Generate high-quality synthetic content.

Create voices with accents or convert your English voices into up to 100 languages.
Pricing
Trial Version Available (includes converting English voices to Spanish and French).

For More Information see our Pricing Page.
2. Voicemod
For integrated voice changers, Voicemod is the best Discord voice changer due to its huge library of high-quality voices and effects, customizable parameters, and seamless integration.
Pros
Over 50 voices and effects like robot, male, female, pitch shift, reverb

Fully customizable voice creation

Real-time voice changing

Easy to set up with Discord
Cons
Can be resource-intensive on lower-end PCs
Some voices sound more robotic
Pricing
Free Version Available (limited features)
Premium Subscription costs $10/month or $40 one-time purchase
3. Clownfish Voice Changer (FREE)
Clownfish is a great free option with its easy to use interface, low compute usage, and a decent selection of built-in-voices.
Pros
Straightforward and easy to use
Low CPU/memory usage
Male, female, child voices
100% Free Voice Changer
Cons
Limited effects and customization
Some voices sound unnatural
Pricing
100% Free Discord Voice Changer 
4. Voicemeeter Voice Changer (FREE)
Voicemeeter offers advanced audio mixing capabilities along with some integrated voice changing effects.
Pros
Robust audio mixer with EQ, compression, etc.
Integrated pitch and timbre shifting
Low latency perfect for real-time use
Cons
Steep learning curve
Manual configuration required
Basic built-in effects
Pricing
100% Free Discord Voice Changer 
Create Compelling Content With Resemble's AI Voice Generator
While Resemble AI doesn't have a direct integration as a voice changer for Discord, you have the option of creating unbelievably high-quality voice over content in unique voices, accents, and different languages. You can leverage the AI audio in Discord servers to create content similar to the audio generated below using free AI voices from our Voice Marketplace.  
Tarkos' marketplace voice is available to all users.
Below are the simple steps to design Discord voiceover content using Resemble AI:
Step 1 – Choose Your AI Voice (two alternatives)
A. Voice Cloning – To clone your voice, you can either record samples in-app or upload WAV file recordings of your voice to begin the voice cloning process.
B. Voice Marketplace – choose one of over 40 ready-to-use AI voices in our marketplace. The AI voices also come in British and other European accents. 
Step 2 – Generate Voice AI Content
Text to speech demo of generating Discord voiceover content.
Choose your AI voice.
Enter your script into text block.
Press play.
Download your voice over.
Upload to your Discord voice changer software.
Multilingual Discord Voiceovers With Text to Speech
If you're looking to communicate with a non-English server, Resemble Localize allows you to convert your English voice to different languages. Whether this is for pure entertainment or business purposes, you can now create content in up to 100 languages. More uniquely, in tandem with our voice cloning software, our AI voice generator enables you to speak in languages that you don't speak! All of this is achievable through our text to speech (TTS) model. Explore Spanish text to speech, Hindi text to speech, and many more. 
Sample of multilingual voiceovers in Mandarin and Hindi.
Looking for a specific language to create voiceovers in? Our AI voice generator supports the languages listed below. Note that we do more than one dialect for certain languages. For Spanish TTS, we can convert your English voice into Mexican Spanish, Spain Spanish, Dominican Spanish, and more Spanish dialects.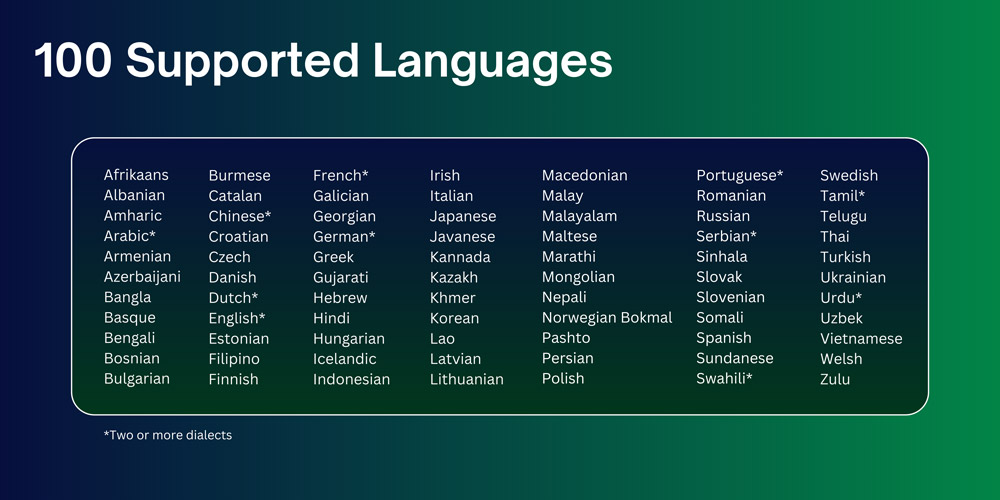 Be The Trendsetter In Your Discord Servers
With the explosive growth of Discord as the preferred social hub for gamers and online communities, voice changers have become an integral part of the platform's appeal. As we've explored, altering your voice opens up endless opportunities for creativity, expression, and plain fun on Discord.
From the simple free tools like Clownfish to advanced voice morphing programs like Voicemod, you have endless options to sound like someone or something else. While the built-in options can add some entertainment, cutting-edge programs like Resemble AI's voice AI generator take things to the next level with stunningly human-like vocal recreations. So whether you're looking to disguise your voice, roleplay a character, or just make your friends laugh, a quality Discord voice changer can significantly amplify your Discord experience! 
Developer Friendly with our API
Integrating speech within your application has never been easier. Create content in realtime with our RESTful API.
Rapidly build production-ready integrations with modern tools. Use Resemble's API to fetch existing content, create new clips and even build voices on the fly.